South Decatur Jr/Sr High School
We Are South
Welcome to South Decatur, home of the Cougars! We are a combined junior and senior high school in Greensburg, Indiana. As part of the Decatur County Community Schools, we serve about 475 students in seventh through twelfth grades.
At South Decatur, we're preparing our students for success after high school, whether they choose to further their education or go straight into the workforce. We invite you to get to know our award-winning school and all the programs we offer our students. Please feel free to contact us if you have any questions. We look forward to hearing from you!
A Message from Our Principal
My name is Stewart Durham, and I am honored to be the principal of South Decatur Jr/Sr High School (SDHS). Professionally I have a varied background that did not start off in education but instead in the public sector. After years of management and small business ownership, a chance volunteer opportunity in my son's third grade class made me realize education was a shift I needed to make. Back to Northern Kentucky University I went, adding to my business degree with a degree in elementary education with a mathematics emphasis, leading to a license in Indiana as a k–6 generalist with 5–9 mathematics and 5–9 science. After years in the classroom I felt a calling to administration where I could help students, their families, and teachers in their respective educational pathways. I now hold a masters degree in educational leadership from Louisiana State University. As a lifelong learner, my educational journey hasn't stopped, and I hope that inspires your children to do the same.
On a personal side, I have been married to my high school sweetheart, Julie, for almost 30 years now! We have two pretty awesome kids, Dean and Libby, and our dog Maeve. As semi-empty nesters, Julie and I spend our free time taking in everything the Greater Cincinnati area has to offer; food, sporting events, entertainment, and food! We also like to travel to places we've never been and places we love to return to, like New Orleans.
You aren't sending your children to SDHS for me. You have chosen our school for outstanding academics and extracurricular opportunities. Decatur County Community Schools is a small district who refuses to think small. At SDHS we offer numerous dual credit and AP courses, a full pathway in agricultural sciences, a top notch arts program (visual art, choir, and band), and a biomedical sciences program that is second to none! At the varsity level we offer football, volleyball, cross country, basketball, track, baseball, softball, and golf! Add to that our many clubs for students to grow themselves in, and South Decatur Jr/Sr High School is truly a special place for your child.
Thank you for trusting us with your child's education. We are a group of "student first" educators who are here to prepare them for what is next, whether that is the workforce, a post-secondary education, or enlisting in the armed forces. #WeAreSouth!
Regards,
Mr. Stewart Durham
Principal
Return to Learn Plan 2023-2024
We invite you to learn more about our return-to-school plan using the links below.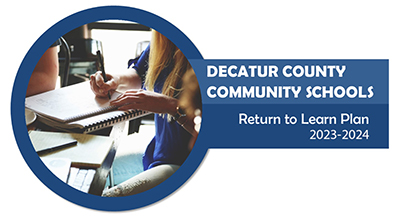 South Decatur Jr/Sr High School Has Won a 2021 College Success Award from GreatSchools.org
There are roughly 26,727 public high schools in the United States. South Decatur Jr/Sr High School is one of only 1,838 public high schools across the nation to win this year's award, which is based on college preparation and postsecondary data shared by your state. South Decatur High School is far above the state average in key measures of college and career readiness. Please visit the GreatSchools.org website to learn more about the award.